Regular price
Rp 253.890,00 IDR
Regular price
Rp 279.000,00 IDR
Sale price
Rp 253.890,00 IDR
Unit price
per
Sale
Sold out
(Journal Only; Box not included)
This journal will witness your days and nights.
It will record your hopes and ideas, plans and actions, successes and failures, all things that will process you to grow to be the best version of yourself.
This journal will be your good friend.
It will guide you to make the most of your present, remember the past with gratitude, and look forward to a better tomorrow.
This journal is a simple way to appreciate your courage every single day.
Harcover, A5, Bookpaper 90gsm, 200 pages, and a bookmark included.
Share
View full details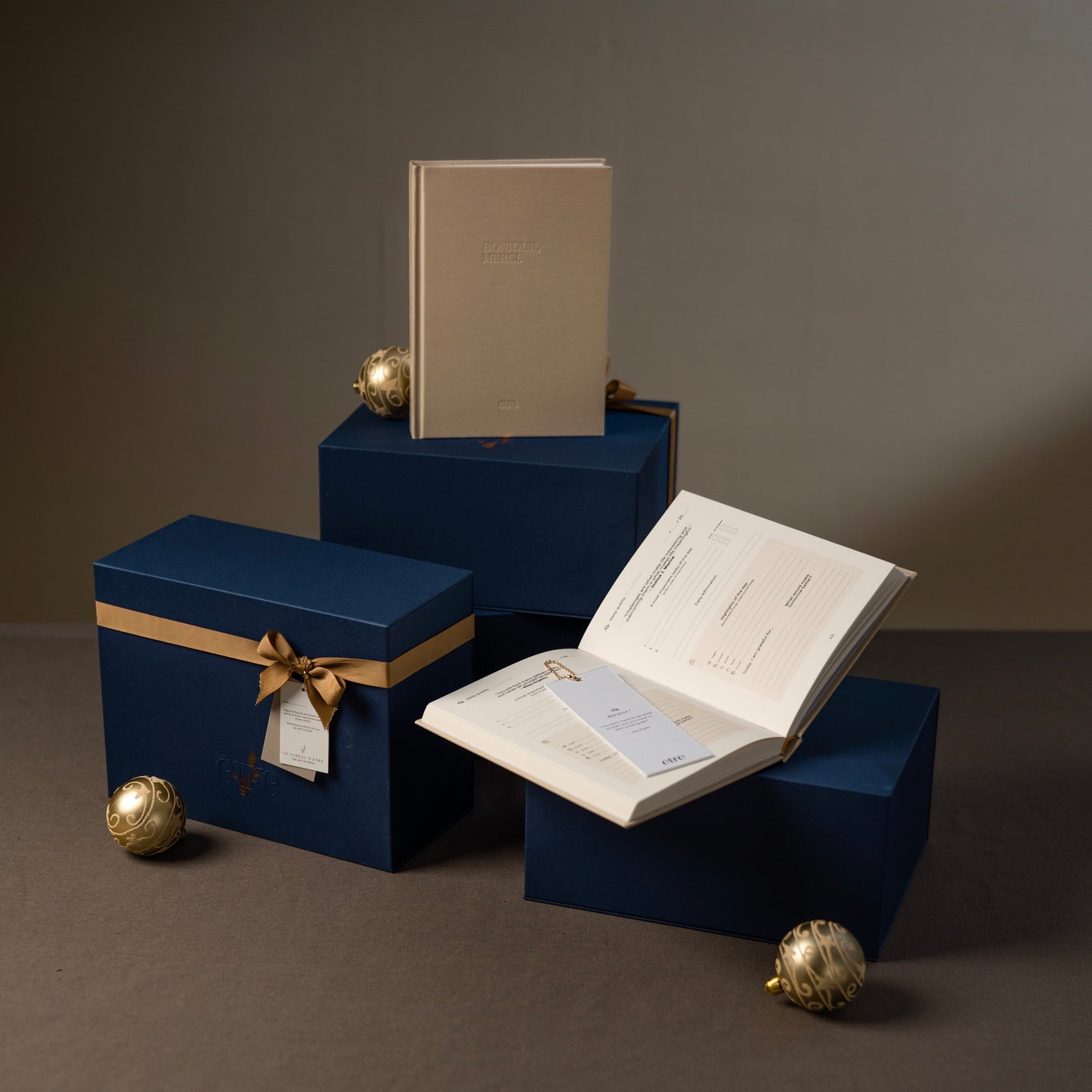 The Power Of Senses
At Être, we believe there is power in our senses, especially our sense of smell. With an inhale, a scent can transport us to core memory, warn us of danger, or even reveal an image we've never seen before. With Être, we want to invite you to embrace your instincts again and get in touch with your deepest selves.
We create a new product, something holistic for your mind and soul: A sensory journal.
Bonjour is a French word that means hello/good morning, and Merci means thank you. This sensory journal consists of two parts: Bonjour is for starting the day in the morning, and Merci is for ending the day in the evening.
What's special, this journal will guide you to reconnect with your senses and make the most of your present, remember the past with gratitude, and look forward to a better tomorrow. It will record simple yet remarkable things you encounter each day from your senses' point of view: sight, hearing, smelling, taste, and touch.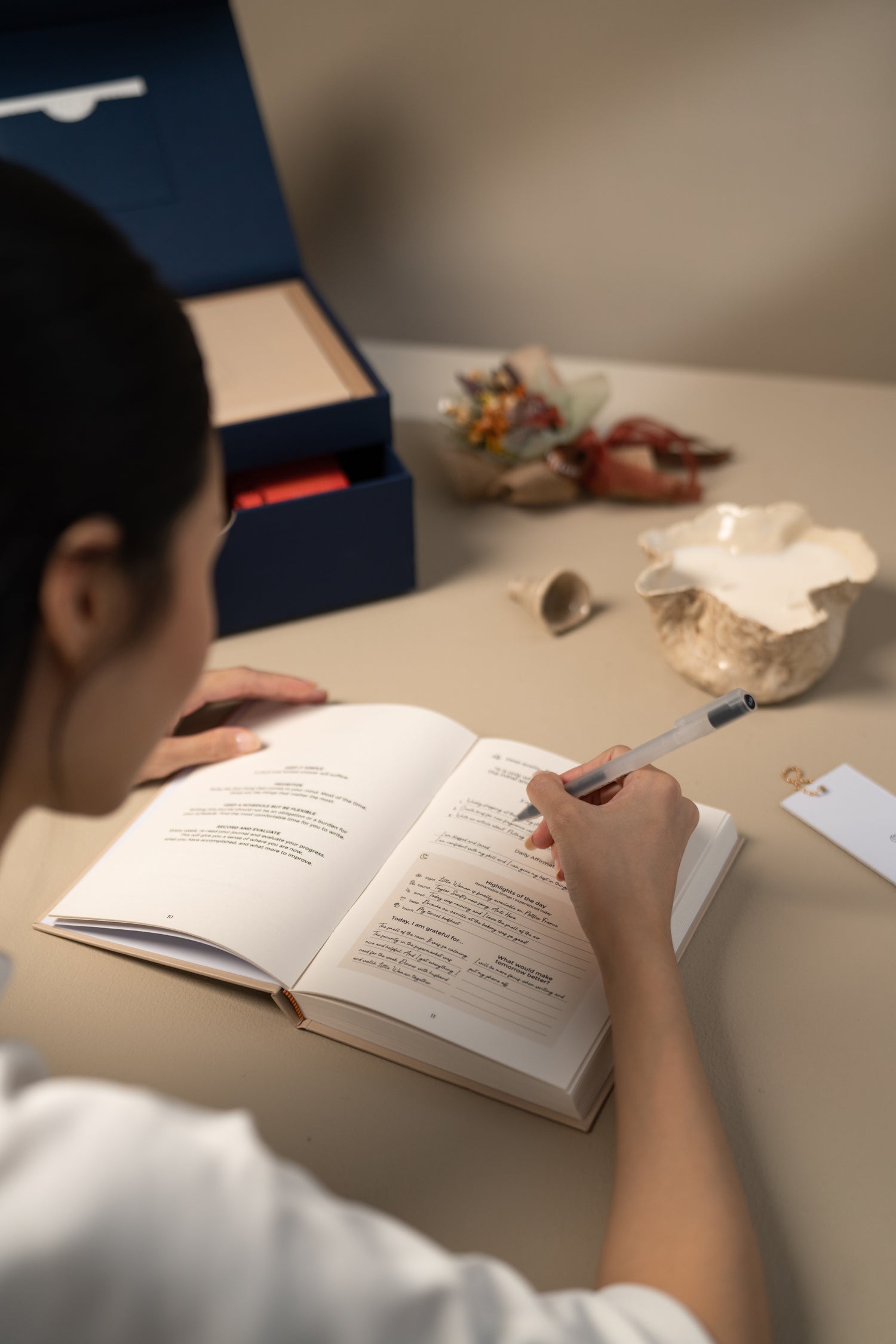 In the morning, write down your 3 most important tasks followed by a daily affirmation. Doing this every morning prepares us for the day and boosts our productivity, setting our minds to be more positive.
At night, when you're ready to end the day, write down any exciting things or events that you saw or watched, heard or listened to, smelled, ate or drank, and touched or felt with your skin that day. This will encourage you to be more present and caring about your senses. Lastly, be grateful for your day and get ready for a new day tomorrow :)
We hope that with this journal, we can better understand where we came from with a keen sense of who we are, and we can be more conscious of our actions.
That's our Être.
Half-year undated journal
Order sejak Oktober, tapi baru buka kemasan jurnalnya lebih dari sebulan kemudian. Jurnalnya untuk 180 hari. Berhubung tidak ada tanggalnya, dan tiap halamannya berisikan motivasi, jurnal ini bakal diisi dengan catatan momen istimewa dalam hidup. Pilihan tepat dalam mempersiapkan tutup tahun dan menyambut tahun baru. Siap menunggu edisi selanjutnya dalam bahasa Indonesia atau kekhasan Nusantara lainnya.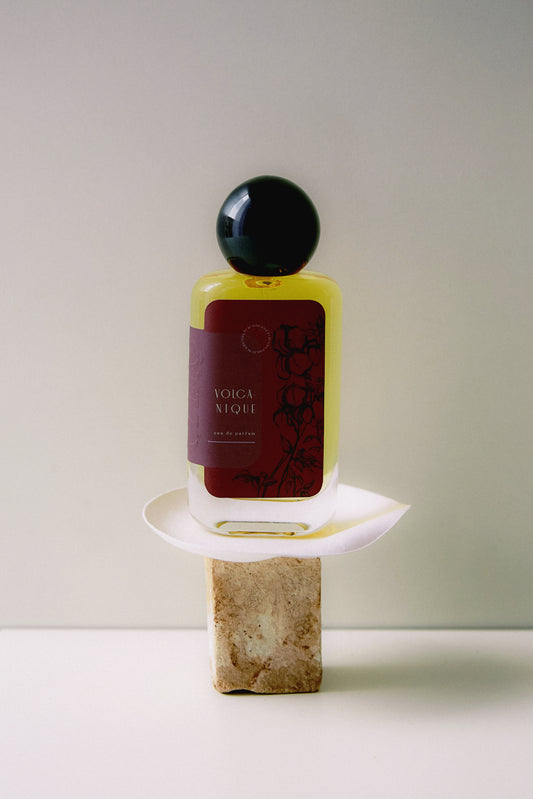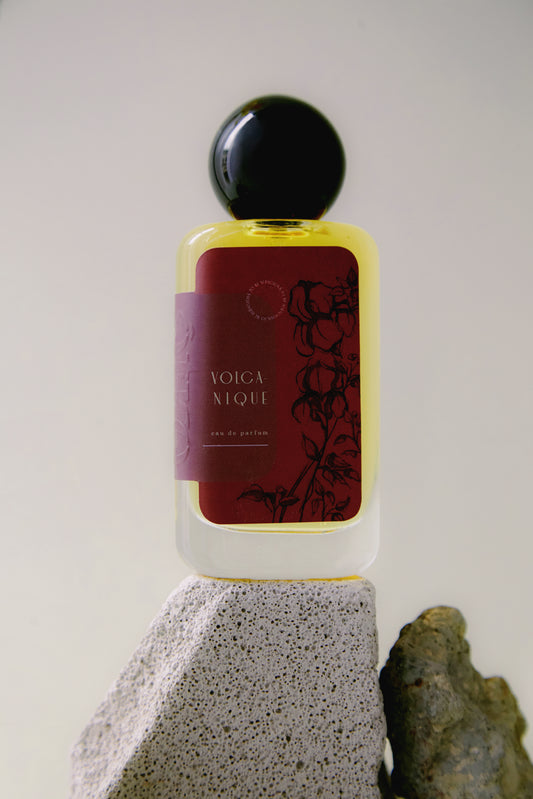 Regular price
From Rp 379.000,00 IDR
Regular price
Rp 758.000,00 IDR
Sale price
From Rp 379.000,00 IDR
Unit price
per
Regular price
From Rp 379.000,00 IDR
Regular price
Rp 758.000,00 IDR
Sale price
From Rp 379.000,00 IDR
Unit price
per
Free Shipping

Free shipping to Jakarta and West Java areas. All order above 250.000 IDR is eligible for a free shipping (up to 15.000 IDR).

Got your 99.000 IDR voucher?

Satisfied with our perfumes? Did you have a good time with them? Make more beautiful memories and never let them go!

Here is how to redeem it