Regular price
Rp 149.000,00 IDR
Regular price
Sale price
Rp 149.000,00 IDR
Unit price
per
Sale
Sold out
To fully enjoy wearing perfumes, it's important to feel comfortable with them. Perfumes take time to develop and evolve with your body chemistry, which is also influenced by your daily activities. By trying out the Être DEUX - Chapter I discovery set, you can experience how this perfume interacts with your unique chemistry.
The set includes the following items:

2 ml For The Memories Of

For The Memories Of is a sensory journey that takes you to the lush forests of Ubud, where the air is filled with a symphony of aromas that enchant the senses.

It is an elegant, eloquent, and vibrant fragrance.
2 ml A Place We Call Home

A Place We Call Home is a fragrance that captures the essence of a tropical paradise, where the sun, sand, and sea harmonize to create a sensory symphony that delights the senses.

It is a clean, bright, and sophisticated perfume.
2 x Smelling Blotters

Made from patented paper that is specifically designed for fragrance testing, our blotters are uniquely formulated to absorb and release fragrance in a way that is unmatched by traditional paper blotters. Whether you're evaluating a new fragrance or simply indulging in the pleasure of scent, our blotters are the perfect tool for the job.
Gift Voucher

Scan the QR code on the card inside your package and input the code during checkout.
Linen Zipper Pouch

Introducing the Être handmade linen pouch - the perfect travel companion for your favorite perfume! Made with high-quality linen and featuring a convenient zipper closure, this pouch is designed to keep your perfume safe and secure while you're on the go. Its compact size of 15 x 20 cm makes it easy to slip into your bag or luggage, so you can take your signature scent with you wherever you go.
How to wear our perfumes:
Start by spraying the perfume on your neck, wrists, and behind your ears. Next, spray the perfumes on your clothes to enhance their long-lastingness. Our perfumes do not contain colorants. Hence, they will not stain your clothes 🙂
Our vials are big enough for a week of full-wear yet tiny enough to carry around. Keep your vials in their small boxes when carrying them in your bag for your peace of mind. Voilà. Parfumez-vous bien!
Share
View full details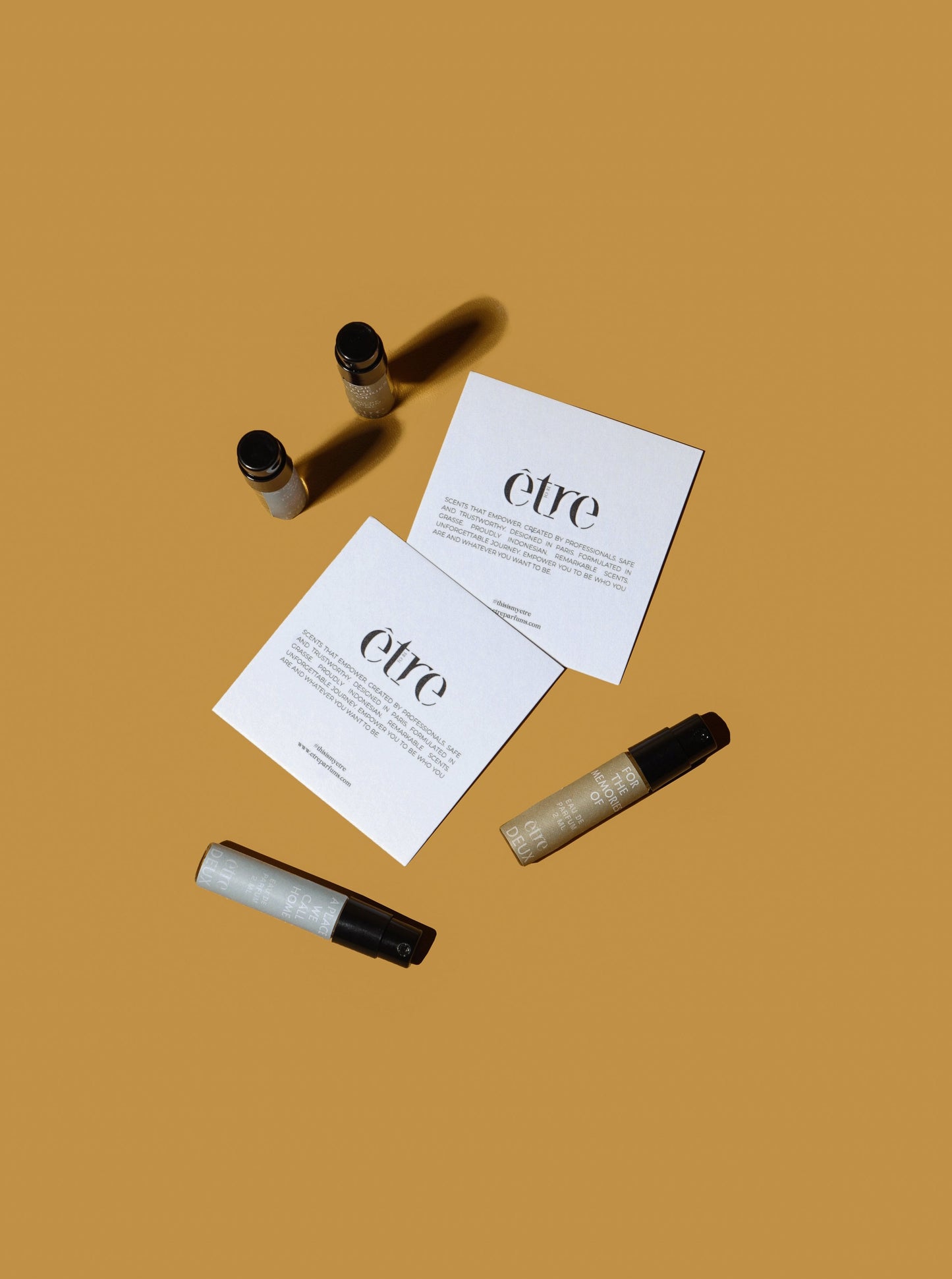 ÊTRE DEUX
Deux, which means "two" in French, represents the second collection of our brand, comprising two unique perfumes that share a common theme and concept✨

Through Deux, we aim to ignite your senses and take you on a journey through our stories. Each perfume tells a unique tale, painting vivid pictures of places, things, and people, reminding us that the world is a treasure trove of boundless beauty and wonder, waiting to be explored from diverse perspectives.

Our mission with Deux is to inspire you to see the world in a different light, embrace the unexpected, and live life to the fullest. We want to encourage you to be true to yourself, pursue your passions, and celebrate the journey of becoming who you are and who you want to be.
What they like about our Discovery Set
it suits the name
For the memories of it's remind me of the old furniture and air that i smell on my old house where my grandparents used to live. It's blend well on my skin and the fragrance stay the same from the morning until afternoon.
I love more a place we call home that taste soft and fresh at the same time. It's remind me of a home that makes me want to come more and more.
This one also blend well on my skin and stay longer. I cannot stop smelling it. Love this one and will purchase the full bottle one day.
New Favourite!
I am in love with the scents! It so refreshing, both for body and soul. I know that the campaign is going for home, as for me it bring back "me". We all can be who we are when we are at home, so I feel I can be me entirely when I am wearing both of the fragrances! Thank you Être!
Magical.
I've been such a huge fan of être since their first collection (force d'âme & volcanique are my favs).
I got so excited when I heard that they were about to release their second collection (Deux) and checked out immediately the discovery set when it was available.
To me, Deux is so much different than their classic collection. When the first time I sniffed FTMO & APWCH, I was surprised. Both of the fragrances really remind me the scent of Bali. I can feel the ambiance of Bali and they both remind me of the long lost good memories that I have about Bali.
FTMO smells like "traditional" Bali to me with its floral, woody, and a few incense notes while APWCH smells pretty "modern" Bali to me with its floral, a bit of a citrus, and sweet notes.
I've purchased the full bottle right on the launch date and I can't wait for it to arrived.
Deux: Chapter I is truly magical.
Original

We do not and will never copy existing fragrance. We are doing our best to be creative and innovative with our concepts.

IFRA & BPOM Certified

With these certifications, we are confident that our products are safe for consumers.