Regular price
Rp 1.042.200,00 IDR
Regular price
Rp 1.158.000,00 IDR
Sale price
Rp 1.042.200,00 IDR
Unit price
per
Sale
Sold out
When you buy 2 Deux, you can enjoy a 10% discount at checkout. Don't forget to use your gift voucher when redeeming your purchase.
Deux Collection Bundle
Fragrance Concentration

For The Memories Of EDP: 22%
A Place We Call Home EDP: 22%
Performance

On average, our fragrances lasts 4-8 hours. It can be more or less, mainly depending on your diet, activities, and the weather.
Perfumer

Alice Lavenat - For The Memories Of
Lygia - A Place We Call Home
Ingredients

For The Memories Of: Alcohol Denat., Fragrance, Aqua (Water), Benzyl Salicylate, Limonene, Citronellol, Alpha-Isomethyl Ionone, Cinnamyl Alcohol, Linalool, Eugenol, Benzyl Benzoate, Geraniol, Citral, Benzyl Alcohol.
A Place We Call Home: Alcohol Denat., Fragrance, Aqua (Water), Benzyl salicylate, Limonene, Alpha-Isomethyl Ionone, Geraniol, Linalool, Eugenol, Cinnamal, Citral, Isoeugenol, Benzyl benzoate
BPOM

For The Memories Of: NA18230600996
A Place We Call Home: NA18230600995
Share
View full details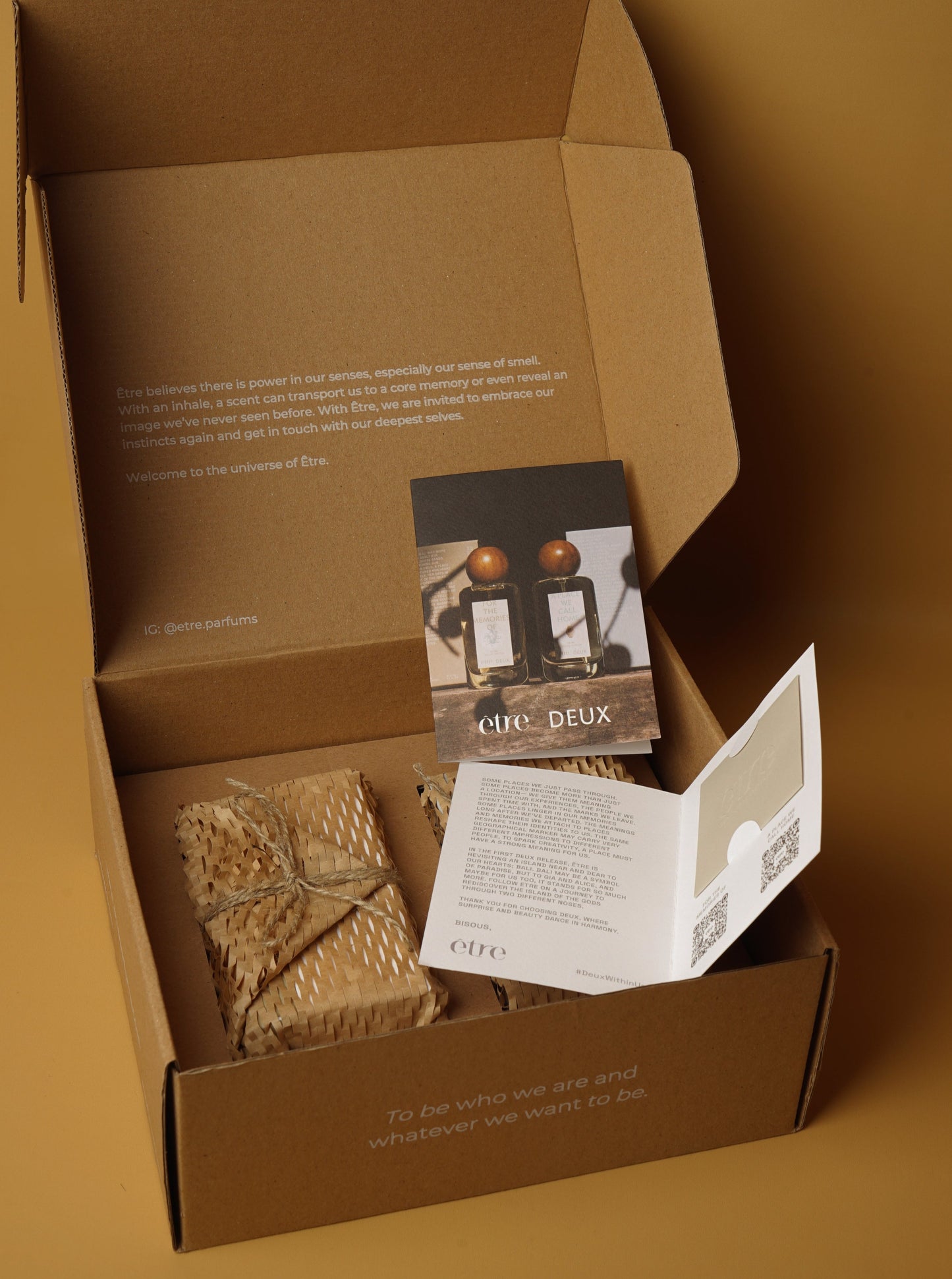 DEUX Chapter 1: Bali.
Places are not simply geographical markers—
they hold within them the echoes of our experiences and the memories we create,
embedded deeply within our souls, shaping our very identities.
To truly know a place is to understand the meaning it holds within us,
the personal connection we have forged with it.
It is in these places, where our souls have touched the earth,
that we find the greatest inspiration.
No two people see a place the same way, and it takes a special significance to truly awaken our creativity. That's why Etre is embarking on a journey to rediscover the island of Bali, a place close to our hearts. For many, it may represent paradise, but for Gia and Alice, and perhaps for us,
it holds a deeper meaning.
Join Etre as we uncover the island of the gods through their unique perspectives.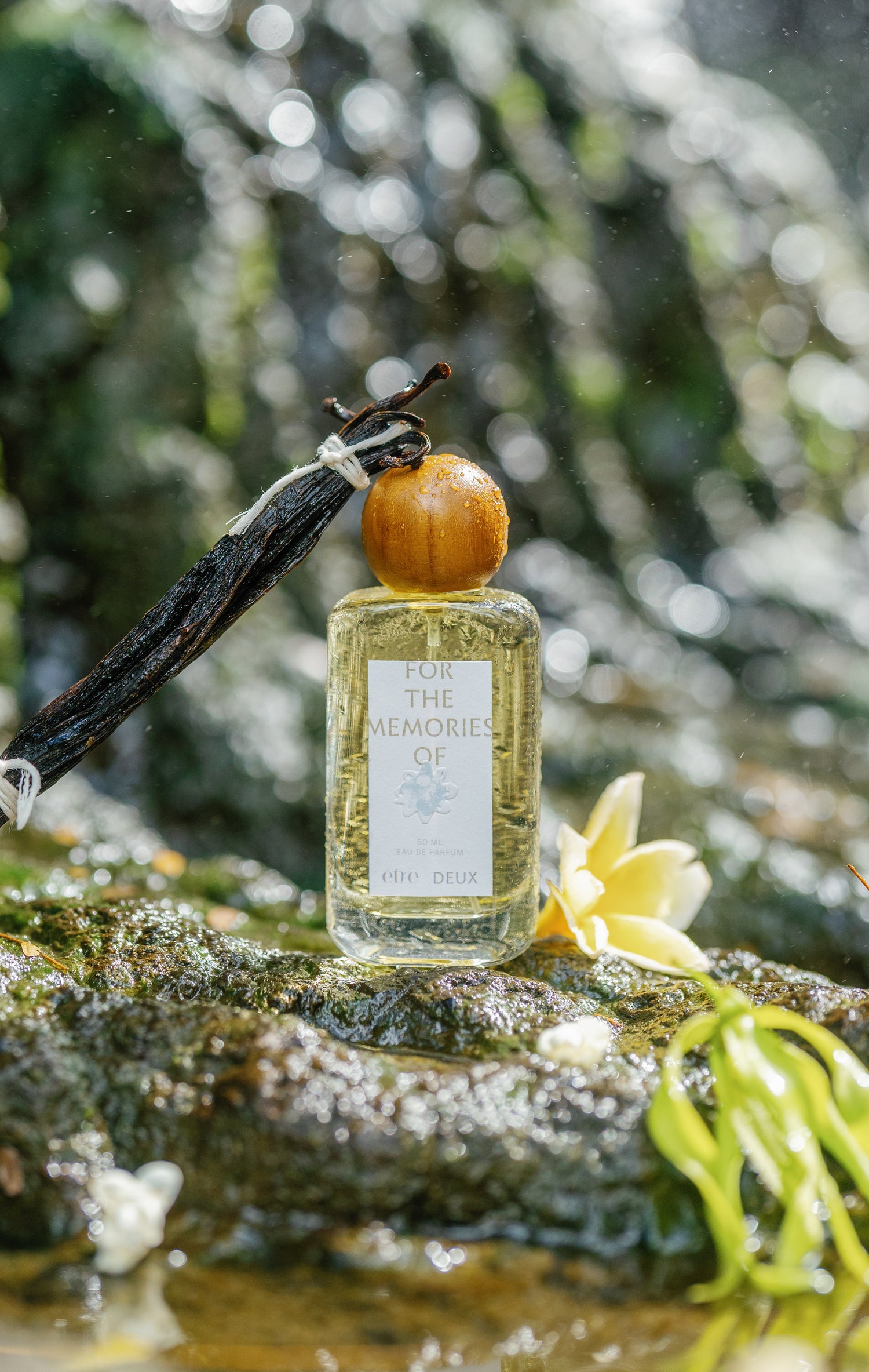 Alice's adventure to Bali was a stunning surprise. She arrived with certain expectations, but what she found was beyond her wildest dreams.
Starring: Lime Essential Oil, Mandarin Essential Oil, Elemi Essential Oil, Frankincense Resinoid, Elemi Essential Oil, Camomille Essential Oil.
Olfactive family: Floral, Woody, Ambery
Find Out More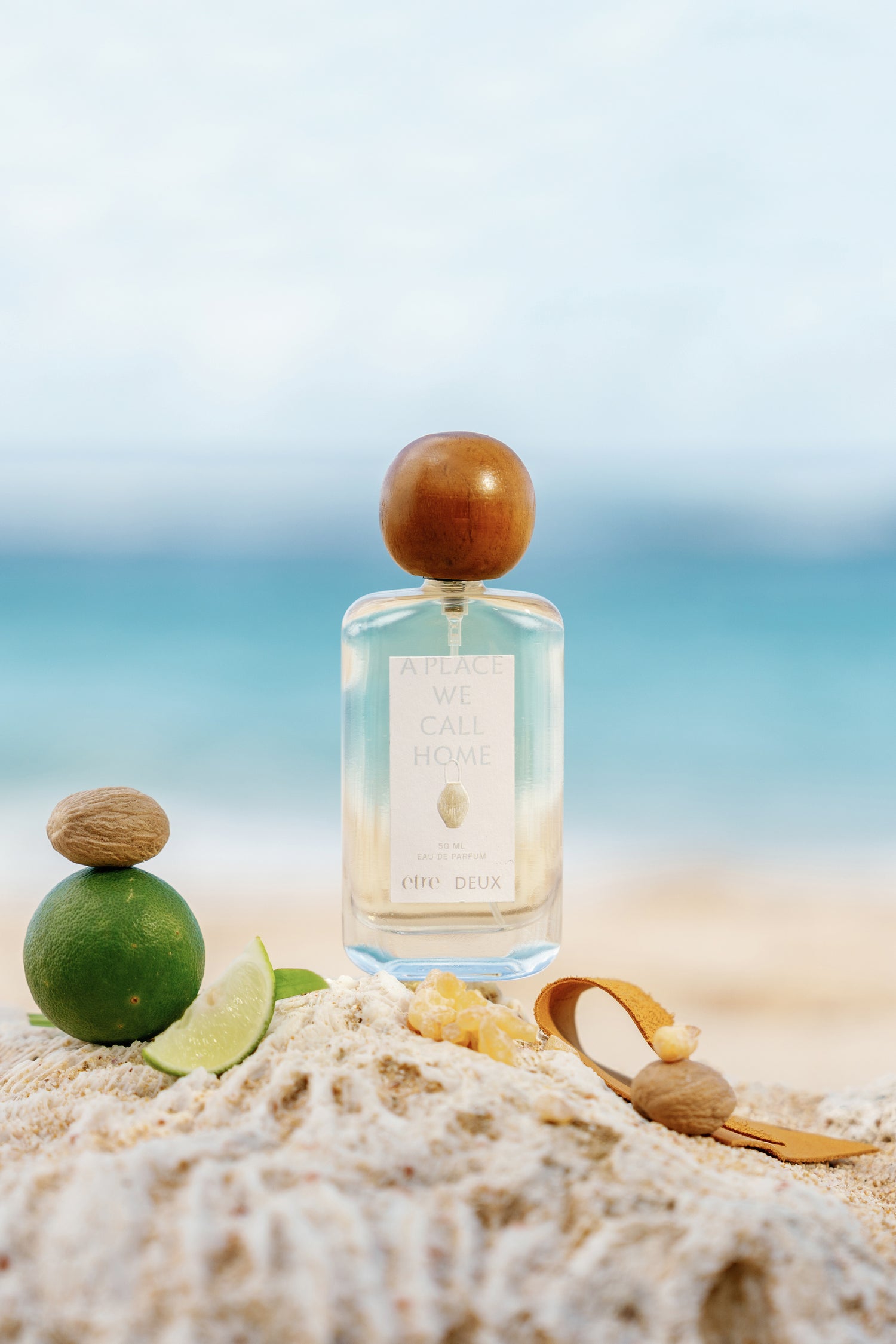 Gia has always had a special connection with Bali, a place that never fails to captivate her with its magic. On her latest trip, something truly exceptional happened, and she found the harmony she had been searching for.
Starring: Red Mandarin Essential Oil, Frankincense Essential Oil, Nutmeg Essential Oil, Jasmin Sambac India Absolute, Vetiver Java Essential Oil, Frangipani Absolute.
Sandy Beach, Leather, and Sandalwood Accord.
Olfactive Family: Floral, Woody, Musky.
Find Out More
What YOU say about DEUX
Deb Olfaxtory

"If you were impressed with @etre.parfums first releases and if you want to smell unique, niche scents that you don't usually find in the market, you won't be disappointed."

Dea

"I just wanted to let you know that I loveeee the duo ❤️❤️❤️ Langsung fall in love with both the scents... bisa pas banget what I was looking for. I love them both, terus kemarin sempet alternate between them! Tapi sekarang lagi suka banget untuk layer 2 scent."

Levana

"Haiii être!! Parfum barunya Être ini parah enak bangettt wanginya, lsg rasa ingin holiday healing ke Bali 😂😂 wangi spa2 exclusive di Bali, duh duh ga sabar full bottle nya 🥰❤️ congrats yah Être n team 🫶"

Rifky

"A place we call home bener² clean fresh relaxing wahhh enak pake banget scentnya."

Christian

"I LIKE THE NEW DESIGN 🔥 Discovery Box aku juga suka bangetttt! Ada pouch nya dan neutral color. Aku suka 22nya si. "

Grace

"Aku suka bgt sm konsep Etre deux! Aku suka bgt theme warna nya..ceritanya..pouch nya pun aku sukaa. Bravo Etre team! Menurut aku yg Deux ini lebih complex ya. Kaya mesti diresapi buat dinikmati!"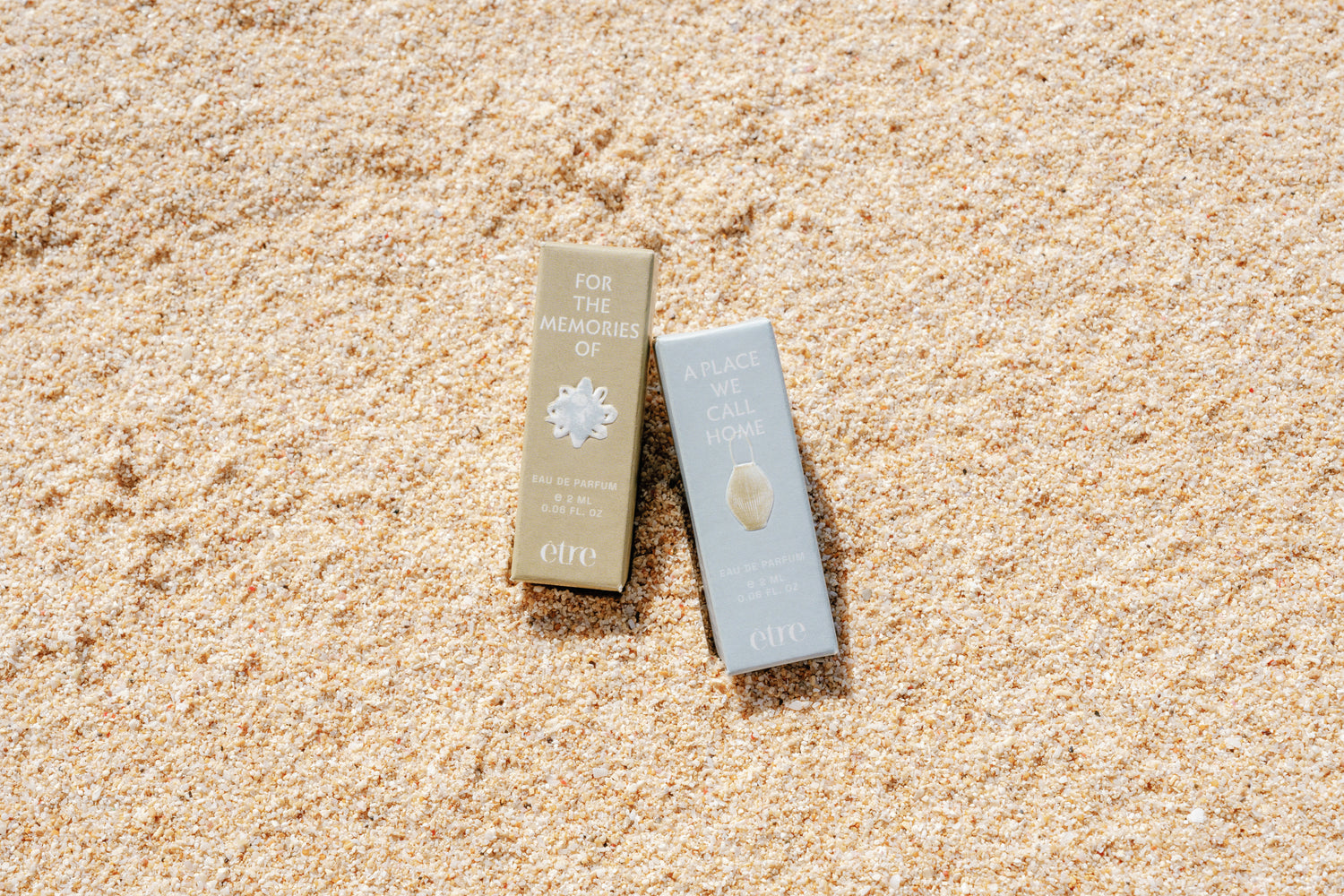 #FindYourDeux
If you're still not sure which Deux fragrance is right for you, we've got you covered. Our discovery set is now 149.000 IDR and comes with a voucher that you can use to purchase a full-sized (50 ml) perfume. This set contains 2 ml vials of each fragrance, two smelling blotters, and a handmade linen zipper pouch.
Shop Now
Free Shipping

Free shipping to Jakarta and West Java areas. All order above 250.000 IDR is eligible for a free shipping (up to 15.000 IDR).

Got your 99.000 IDR voucher?

Satisfied with our perfumes? Did you have a good time with them? Make more beautiful memories and never let them go!

Here is how to redeem it